Submitted by Mortal Mindy on
The North Bay waterpark is moving forward at last after developers met an extended council deadline to finalise parts of the deal.                           
http://www.thescarboroughnews.co.uk/news/local/breaking-waterpark-is-app...
http://www.fileymercury.co.uk/news/local/waterpark-plan-is-approved-by-o...
http://www.scarborough.gov.uk/default.aspx?page=17747
Development agreement extended for The Sands
Cllr Tom Fox, Leader of Scarborough Borough Council, used his delegated authority earlier this week to further extend our development agreement with Benchmark Properties Limited for The Sands project in Scarborough's North Bay. The purpose of the extension, which will run until 25 April, is to allow for the validation of the commercial analysis of the proposed water park element of the project.
In September last year, councillors had agreed to extend the development agreement to 31 March to complete all necessary negotiations that would allow the construction of the water park to go ahead.  A verbal update on progress was given by Cllr Fox at the Full Council meeting in January this year.  However while the work on the commercial analysis, a process which examines whether the project will stack up financially, has been completed, there is a requirement that the analysis is validated by an independent third party before being reported back to Full Council.  Unfortunately Benchmark did not get the required information to council officers in time for them to arrange for the validation to be completed by 31 March, so Cllr Fox has agreed an extra 25 days for this purpose.  Cllr Fox said: "It is disappointing to note the apparent failure of the developer to perform to the time schedules and I am of the opinion that any major variance from the outline of recommendations agreed previously through Full Council will require any final decision being returned to councillors for their attention.
"However, to permit extra time for our officers and Benchmark to seek to resolve outstanding issues, I feel it correct to agree to extend the agreement up to and including 25 April and I am hopeful that any outstanding issues will be resolved during that time."
The Agenda:  http://democracy.scarborough.gov.uk/mgAi.aspx?ID=20871
The Plans: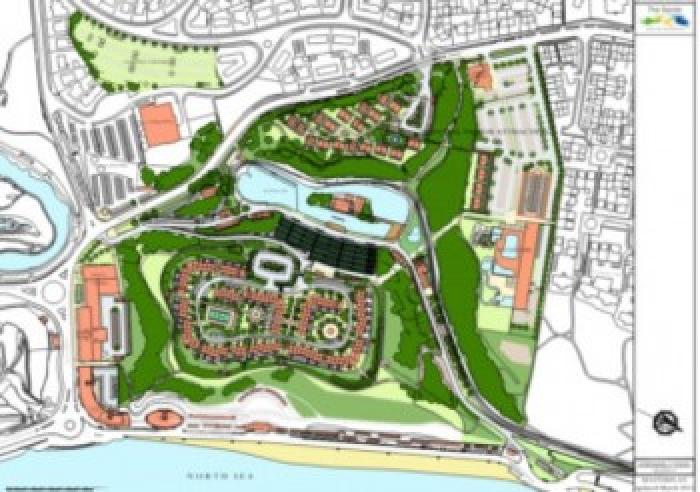 The indoor Water Park is to be built by Swiss firm Alpamare: http://www.alpamare.ch/?lang=en
Kontakt und ÖffnungszeitenBad Seedamm AG, Alpamare
Gwattstrasse 12
CH-8808 Pfäffikon SZ
Telefon: +41 55 415 15 15
Telefax: +41 55 415 15 75
E-Mail: alpamare@alpamare.ch
Six local  Councillors were invitied to meet Alpamare executives earlier this year and it is understood they came away impressed and confident that Alpamare would be able to successfully build the Water Park.
Roland Duce who has taken over the Benchmark Development has a vast experience in property development.  Last checked in 2012 his latest company Abbey Commercial Developments showed a net cash balance of circa £ 6 mil.
http://companycheck.co.uk/director/916549328 in researching through Duce's history the only interesting company found was the 20-Ghost Club Limited, can't think why :-)) purrr purrr
Bang Bang ! http://www.youtube.com/watch?v=Tqjl4nRSorM
http://www.thescarboroughnews.co.uk/news/local/new-waterpark-hopes-at-ri...