Submitted by Mortal Mindy on
http://www.thenorthernecho.co.uk/business/news/13720289.Fears_grow_for_2...
"FEARS are growing for the future of 2,000 North-East steel jobs after SSI in Redcar missed a series of debt repayments.
SSI, the Thai-based owners of the Teesside iron and steel works, has been hit by falling demand for the steel, with prices for the commodity plummeting 40 per cent in the last year as a result.
The Telegraph is reporting that the company failed to repay loans worth £80m in June and was given a short-term stay of execution by lenders. This follows a series of stories in The Northern Echo which revealed the company was struggling to make ends meet and its financial state was increasingly perilous.
Asked if there were any inaccuracies in this morning's report, an SSI spokesman told The Northern Echo that the company would be making no comment.
Redcar MP Anna Turley has secured a three hour debate on the crisis in UK steel, which takes place on Thursday. Following business questions in the Commons today, when she pressed steel minister Anna Soubry to support Teesside steel, Ms Turley repeated her call for urgent government action.
Ms Turley said: "The crisis in UK Steel is becoming serious and the government must act now to save steelmaking on Teesside." https://www.youtube.com/watch?v=yD8DcgpLp_w
http://uk.reuters.com/article/2015/09/15/uk-sahaviriya-steel-uk-employme...
"Britain's largest steelmaker, Tata Steel, has already cut thousands of jobs in the UK since its ill-timed entry into the European industry in 2007 when it bought Anglo Dutch producer Corus for $13 billion.
Producing steel profitably in Britain has become increasingly difficult due to cheap imports and a strong currency, plus relatively high energy costs and "green" taxes imposed on heavy industry that are some of the highest in the world.
SSI, Southeast Asia's largest fully integrated steel sheet producer, bought the Redcar plant in Teeside, northeast England, from Tata Steel for about $500 million in 2011, restarting the mothballed slab plant the following year. It is feared that tens of thousands of jobs in the economically-deprived region could be affected by permanent closure"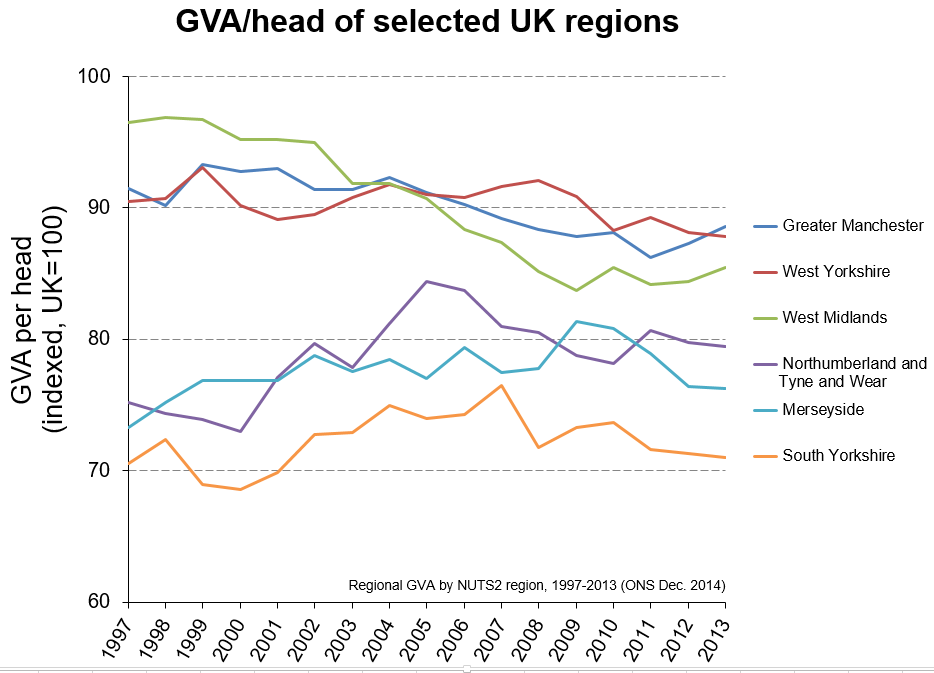 Nope, North Yorkshire is not even on the GVA map ... wiv nowt taken owt ...
Yorkshire Devolution : http://yorkshiredevolution.co.uk/
Erm, don't we need to evolve? Wot about a Yorkshire Evolution, why stop there ....  a Yorkshire Revolution .... spin on this, round in circles, has Bilbao done crop circles? Ah yes Crops, bring back the Ridings ;-) https://www.youtube.com/watch?v=kvDMlk3kSYg
Meanwhile, in Skardiborg  
Scarborough Council's view on 'devolution' : http://democracy.scarborough.gov.uk/documents/s60348/COUNCIL%20MOTION%20...
At County level, Carl Les, bless his little A1 bypass, warns of a North Yorkshire Split ... not quite bananas but could Whitby be headed North?  (taking the Potash with them ... we get fracking and hot air)  Wot no Potash?
http://www.yorkshirepost.co.uk/news/main-topics/politics/devolution-plan...
"NORTH Yorkshire could be split in two by a devolution plan that risks leaving rural areas behind, according to a council leader.
Coun Carl Les, leader of North Yorkshire County Council, expressed disappointment at a proposal which would see West Yorkshire team up with three North Yorkshire districts and York to bid for greater control over their own affairs.
The invitation from West Yorkshire councils was extended to York, Harrogate, Selby and Craven last week.
Talks had previously taken place over a single proposal, known as the 'Greater Yorkshire' plan, which would have seen a single bid submitted by West and North Yorkshire, East Riding and perhaps Hull.
But West Yorkshire's five authorities have now indicated their preference is to partner with their immediate neighbours or to go it alone.
Coun Les said: "I am disappointed they are doing this. It misses the opportunity offered by the Greater Yorkshire idea.
"My specific concern is that it splits North Yorkshire into two parts - those with devolution and those that might have it.
"I think it ignores the rural economy and I think it ignores East Yorkshire." Cool  ;-) https://www.youtube.com/watch?v=R1d3jwJKI8o
EU population > 788mil
So, the UK is building 'Little Englands' while the EU is building  .... a Northern Powerhouse.