Submitted by Mortal Mindy on
Imagine all the pensioners cashing in their whole pension pots to spend or invest at will in 2015.   Then imagine the massive tax receipts that George Osbourne will be able to collect. Add to this his Govts. other ill-conceived economic policies that will drive this country further into debt, whilst he and his fellow cabinet ministers continue to create an ever increasing gap between the rich and poor.  Not only will Osbourne's policy on pensions leave an economic black hole for future generations it would leave the present generation with the overburdening inevitabilty of filling the void of the vault that feeds millions of empty pensioner's purses, with no doubt after this Govts. diabolical policies from an eternal indebted treasury chest.
Not only has the Chancellor's budget 2014 took the Insurance Industry by surprise " From 2015, pensioners will have the freedom to cash in as much or as little of their pension pot as they want, removing the need to buy an annuity. In response, firms which sell such policies saw their share prices tumble. The insurance industry said the reforms presented a "significant challenge" and it was "crucial" to get them right. Chancellor George Osborne said the pension changes were part of the "most far-reaching reforms" to the taxation of pensions for 90 years. In his fifth Budget - 15 months away from the next general election - the chancellor sought to help pensioners and savers penalised by the low interest rates of the past seven years."  http://www.bbc.co.uk/news/uk-politics-26649162
Helping himself more likely, as the wolf in sheeps clothing is on the prowl to collect cash while he can,  and fill his Govts. pockets from the pensioner's pots.  Osbourne embellishes the benefits of the freedom to choose how they spend their hard earned savings, by announcing that from 2015 pensioners will  have the freedom to take all of their pension 'pot' rather than the present 25%  tax free lunp sum with the remainder of the pot to be drawn down over a lifetime via an Annuity based income that is taxable over a lifetime,  the Insurance Industry (who mainly provide Annuitys) are facing some serious challenges.  And they are not the only ones.
Since savings and interest rates have been held low,  along with quantative easing devaluing the pound etc,  it has been difficult for savers and investors to get a decent return on their money.  During this time of recession or austerity, any 'disposable' income would have been very wisely invested into a pension.  A pension is deemed as safe,  a longterm investment  and something to look forward too.  Moreover for every £ 80 you invest the Govt.  add at basic rate tax another £ 20, or 20%.  So if you had money to invest, for the last five years this has been the safest and most beneficial investment you could make when parting with your hard earned cash.  Of course there were limits as to how much you could pile into your pension pot, but clearly an automatic 20% gain over the measley savings average of about 2%  was always a winner.  Here is how that works:   http://www.hmrc.gov.uk/incometax/relief-pension.htm
So, this 'surprise' announcement that may give instant gratification to appeal to the 'grey' market the implications of this are so far reaching, not only to the pension and annuity providers, but the tax implications  that it beggars belief that such an amateur and ill-conceived policy could or will even get passed through parliament.    Thankfully the 'grey' market have 'grey' matter between their ears and hopefully not all will succumb to this blatant and obvious raid on pensioners hard earned income and provision just to feed Osbournes desperate lust for taking from people's purses to fill the vaults.   
Looking for the details and the technicalities of how Osbourne's policy can be implemented is like looking for a lost soul on consecrated ground.  There are none.  What we do know is that pensions are taxable.  An annuity or life long pension provider  would release that tax over the lifetime, adding to the Govts income and receipts over that lifetime.  Under Osbourne's far reaching 'reforms' have no doubt that Tax will be collected at source, in full at the point of withdrawal creating an instant short-term fix for the Govt to collect dues that would otherwise be taken over a period of time.  HMRC forecasts and projections on incoming receipts will be totally blasted out of the water.  Hell hath no fury like HMRC.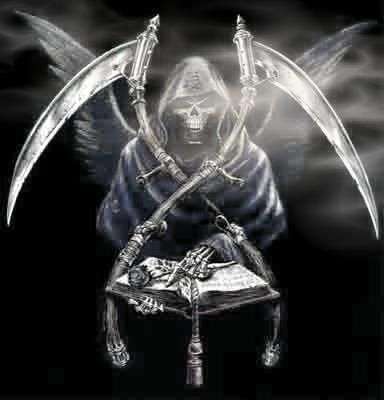 So whilst we look to reap what we sow, George Osbourne should  beware the Grim Reaper, he feeds on time. To contest. One is after your soul the other is after your money, and he wants it in 2015.  No contest.     
Calm down dear!!    http://www.youtube.com/watch?v=XBzna6QVKRg