Submitted by Mortal Mindy on
Of course HS2 started as a devious pre election Labour Party plot by Lord Adonis. In 2009 I was at Brighton at conference 'work shop' along with our then PPC, when Adonis presented his plans for a massive investment to improve the rail links between London and Brimingham, and further to Manchester, along the West Coast Mainline.   I remember wanting to ask then, what about the East Coast?  What has this got to do with us? So we left.   "Prime Minister Gordon Brown hailed the announcement as 'most exciting'. But sceptics say the plan is an election ploy by Labour - linking London to key marginal seats and onwards to the party's northern Labour strongholds." lol.  http://www.dailymail.co.uk/news/article-1257042/30billion-high-speed-rai... Gordon Brown knew how to invest, in people ;-) http://www.labour.org.uk/gordon-brown-speech-conference -  politics!
So has HS2 become a political hybrid project to promote to the nation that Britain is in 'need' or has it become a political 'noose'?  
Network Rail; 'If HS2 is not built, the West Coast Main Line would be full by the mid-2020s leaving many commuters into London and Birmingham unable to board their trains at the busiest times.' There is much said of capacity and reduction of journey times.   The increase of freight by rail and the decrease of freight by road.  in 2010 Greenpeace transport campaigner Anna Jones said "the line must connect to Heathrow in place of a third runway." But the Third Runway at Heathrow is still on the table albeit meeting some stiff competition from Gatwick:  http://www.theguardian.com/environment/2014/may/13/heathrow-third-runway... So any arguments about reducing CO2 and long term reductions to the costs to the enviroment are negated. http://hs2.org.uk/about-hs2/facts-figures/environmental-effects
With soundbites such as '10 million people more can fly out of Gatwick than Heathrow' and re HS2 'Parts of Britain's ground-breaking Victorian railway network are facing complete saturation. Over the last decade passenger journeys have grown 50% to 1.46 billion a year, with long-distance journeys growing at the fastest rate. By 2020 a further 400 million journeys will be made.'  With the polulation of England circa 54 million it beggars the question, who are these people? Where are they all going? What do they do?  Are these journeys made by 'trackers' is there some emerging phenomenon of  'train junkies'.  Sure I can understand the need to get out Londopolis as fast as possible .... but a return ticket?  Are there some 'junketists' that simply need rounding up and left in a paddock to dry out? If only they had designed a giant circle line, (M25 style) these people would never need to get off ...    some sort of giant human hamster wheel or gerbil run should do it.
Anyhow I digress, this is serious business, £ 56 billion is not to be scoffed at. Claims that the economy will be boosted by £ 15 billion a year, again end in 18 trains will run per hour in each direction each carrying as many as 1,100 passengers - almost half a million 'junkets' over a 12 hr day ....  with a London population of 8.3 mil rising to 10 mil by 2030 an evacuation would take ten days unless of course via Gatwick ... 
See, I keep coming back to why?  Where is the 'need'?  What are the 'true'st costs;   http://hs2.org.uk/about-hs2/facts-figures/route-trains-cost  ? eh?
And more impertently, what has is to do with us?  The closest HS2 ever gets is to York at Phase II ' The line would head north, following the M1 corridor as it heads towards South Yorkshire. The station serving this region would be located at Meadowhall alongside the M1, between Sheffield and Rotherham. From here, the line would pass to the east of Barnsley and connect to the East Coast Main Line, nine miles south-west of York.': ... 'In addition, the Government supports creating a connection from this leg of the HS2 network onto the existing rail network to enable wider markets to access HS2 services. This would be: A connection onto the existing rail network near Church Fenton, approximately nine miles to the south-west of York, which would enable HS2 trains to run onto the East Coast Main Line to serve York, Darlington, Durham and Newcastle, bringing significant benefits to North Yorkshire, the Tees Valley and the wider North East.'   http://www.hs2.org.uk/phase-two/leeds . So people in Church Fenton are hoping to reap the benefits?  http://www.yorkshirepost.co.uk/news/features/villagers-taking-on-governm...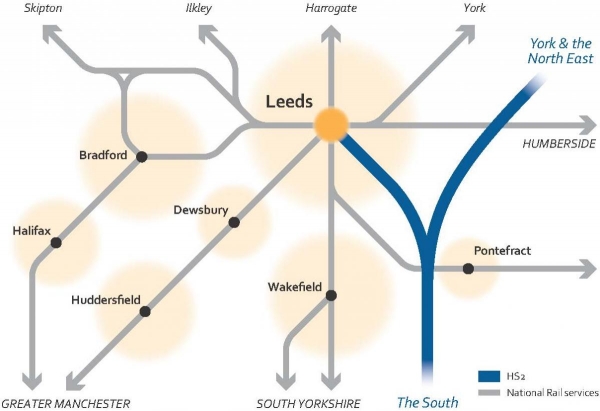 With oppostion to the HS2 project said to be rising past 55% of those 'surveyed' along with objectors including the Council of Archbishops (http://www.thescarboroughnews.co.uk/news/national/now-church-joins-battl...), here on the Yorkshire Coast you may be asking what has it do do with us?
Well, for a start our MP Robert Goodwill as Transport Minister (aka Bingo Bob) has been tagged as one of those responsible ; http://stophs2.org/tag/robert-goodwill - 
03/06/14 'Yorkshire's raw deal on funding for major transport projects could be about to get worse, because of changes to the way central Govt. money is handed out .... the underfunding of transport schemes outside London in recent years "cannot be allowed to continue". ..... a new emphasis on competition for funds, created to raise the quality of bids, could increase the disparity between the capital and regions such as Yorkshire and the Humber .... new arrangements introduced next year mean local enterprise partnerships (LEPs) will compete against each other for most of the money handed out for transport under the Local Growth Fund... with a focus on their ability to deliver economic growth... (LEPs) with more resources could be favoured under the new system and that a lot of money could be wasted on unsuccessful bids.  (eh?) The report said regional economies may be put at a disadvantage because they are not sufficiently well developed to allow the private sector to invest significant sums in local transport schemes' source: http://www.yorkshirepost.co.uk/news/main-topics/local-stories/worse-to-c... (no I didn't understand that either but I think the general gist was .  What about us?)  
Now this becomes relevant locally because of this little gem thrown up in the Whitby Gazette : http://www.whitbygazette.co.uk/news/business/bid-to-get-local-mp-on-boar... "The county council is going to ask Robert Goodwill, now the transport minister, to lobby the government and ask it to support an increase in services on the Esk Valley line. The franchise for the line, which is held by the Esk Valley Railway Community Rail Partnership, is due for renewal in 2016 and invitations for tender are set to be invited from December."
Now, why would they do that?
Of course the danger with political hybrids is the Hamster Wheel Manifesto ...