Submitted by Captain Qalypso on
"A European Shipmate & Conversationalist"
HMS Ulsta Queen 1944
https://www.youtube.com/watch?v=c4bVadtN1TY&ab_channel=TomislavMatecic
"Dear Doris,  How are you doing these hard times?  ... Unfortunately, for the consuming public the main part of the British trawler fleet has been engaged for anxiliary duties by the Admirality & the only people really doing any fishing now are the inshore fishermen who fish a few miles form their villages in small cobbles."
HMS Vernon.
"The other day I was looking at these Spitfires flying on the sea, inshore. I was just about to indulge in a look-see at them with the glass & two red-nosed Heinkel 113's who had been likewise travelling on the sea jumped up and over us, just missing our aerial.  Afterwards we found out they were all Heinkels of the famous 113 brand which are smaller than our spitfires & faster, they can touch 380mph and when we saw them, - as far as I can judge - they must have been doing 381.  They dropped a couple of bombs & raked some Trawlers with their cannon fire, before the AA gun crews had finished their washing. To add insult to injury - a short time after their plaines had got away, we saw one of ours towing a target accross the sky, no doubt to keep the guns crews up to scratch... you lucky people being able to go to the seaside. "
"I'll try to give you a visit ... & I'll tell you some of my hair-raising adventures beneath the sea in my submarine, as there's something for you to look forward to..." 
https://www.youtube.com/watch?v=KE5GGMhmo-M&ab_channel=HeartVEVO
(Finders, keepers : when something is unowned or abandoned, whoever finds it first can claim it. The phrase relates to an ancient Roman law of similar meaning and has been expressed in various ways over the centuries)
"Dear Doris,   I am just writing you a line to tell you that I have had a letter from Ron in which he tells us of the delightful experience & thrill of being in the bombing of the Tirpitz first hand, he was on the cruiser Royalist and was in the whole show free of entertainment tax. He said it was like summer up there in the artic circle etc etc.."
https://www.youtube.com/watch?v=41P8UxneDJE
"The truth is, I'm a little bit frightened of chimney sweeps. The whole profession strikes me as being anchored in ancient superstitions."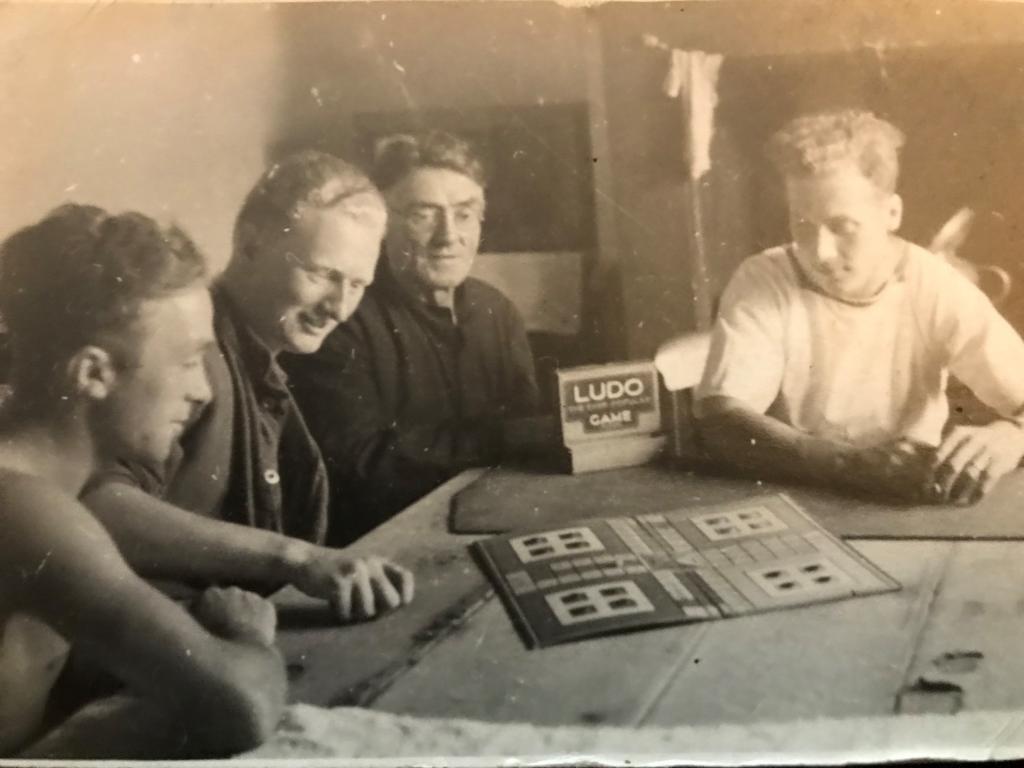 HMS Blencathra  1942
"… I could do with a bit more walking exercise and a little more space to breath in at night time.  The chance of getting an immediate draft from this ship are fading pretty fast, but I have another idea in hand which may see me on the road to fame and fortune in a new branch. What do you think of us for letting through those German Battle cruisers?  Not very good work, is it?...  However, such as you and I don't profess to understand naval strategy still less to direct it and we must leave those things to those mighty sea -lords who do.
"To revert to the subject of the lost library book … take the money from my allotment.
I have had two letters from Douglas.  They give me little information as to his geographical position in longitude or latitude but I know he is aboard a ship going somewhere, and now we know that he isn't likely to get to Singapore so we can set our minds at ease about that can't we?
When you don't get any real news from home but only his sentiments he becomes just like somebody floating in a sea of air with no definite points of reference and co-ordination around him.  Personally I shall feel a lot quieter in my mind after he has arrived at his destination and dropped us some hints as to his whereabouts.  Incidentally since he left I have written home one letter every day."
https://www.youtube.com/watch?v=zWzy5q_M5Ho&ab_channel=HeartVEVO
Obviousy it missed a generation ...
HMS Scylla 1944
"Here I  am inside an envelope again to tell you how I am faring amid this great historical upheaval.
"Life, after all goes on with pretty much the same tempo & has more or less the same meaning or lack of it, as the days go by.  However, it certainly has meaning for us these days.  We seem to have entered the final & most critical phase of the war & everywhere you feel that people are enthusiastic to get on with it & get it finished." 
"You probably read in the papers, or heard on the radio that Scylla was carryng the Admiral & this got us our early mention & let our folks know, almost as soon as it happened that we were well in the picture of this 2nd Front business.  It would be easy for me to shoot a line about our part in the business and what a good show we put up, but modesty forbids and we leave it to the History books & newspapers etc.  But for my first communique on 'how we did it' ...
"A whole week has now passed since we first set foot on this pleasant beach of Normandy and on the whole operations are proceeding with success & we are making good progress.  The big ships are banging away all day & night throwing their 16inch 'prodogies' at any point up to twenty miles distant which is getting a little hot for our boys on land.  The effect of these shells never come along singly but always travel in pairs or more for company."    
"The invasion scene is very colouful & interesting, a scene of feverish activity & military might such as the world has never seen before & never, we hope, will see again.  If the German submarine aces could see the number of ships lined up around these beaches they would get some cases of lager beer on board and submerge and only come out to get rid of the empties."
"Yes we are doing this thing in real style, as we always threatened we would, and is a sight which I wouldn't williingly have missed for all the tea in China."
"There is always of plenty of good white-bread & butter to feed up on, and a simple diet never harmed anyone.  Our worst grumble is the lack of matches to light our cigarettes with ... "
https://www.youtube.com/watch?v=fM44F-M78Vs&ab_channel=HeartVEVO
"Dear Edgar,  Actually I think I'm just recovering from the shock ... it's quite heartbreaking isn't it?  I think I've never realised before or sympathised very much with people who have lost someone very dear - but when its brought home it cures you for all times. I am now conscripted into the Civil Defence Ambulance Service & have to do more or less as I am told.  Jean told me Doris was expecting another baby - I asked her to write to you & tell you as I didn't quite know what effect it would have.   I really must close now & get some work done.  I am on duty now but so far haven't done any work... I better pull my weight or I might be getting chucked out."
1941 RAF Pocklington
"Dear Teddy,  Just a short interruption while I discover that Audrey has just 'posted' about six envelopes into the wireless, so that they have disappeared infront of the indication panel & glass & I can't get them out... 
Marjorie & 'Rick' are at Blackpool this week.  Jack ... is much too heavy ...  well Sweetheart, the fire's going out & I could do with a couple of hankies - I am sick of sneezing &  I could do with some improvement somewhere."
https://www.youtube.com/watch?v=zoGrfIaxfU0&ab_channel=RolandRocker
https://www.yorkshirepost.co.uk/news/opinion/columnists/bletchley-park-a...
Good Old Doris aka 'Daphanie'.
"I seem to do quite well in spite of minor injuries and am living at the wrong end of the day  - you may laugh but it has been happening."
May 1944 Burn Camp, Orkney
"Dear Doris,
It is sometime now since you heard from me, so I thought I had better give you a reminder that I am still alive & in good health etc.  But the prime purpose of this letter was the extra-special, once annual and most ceremonious occasion of wishing you a happy Birthday and still many and happier birthdays in future & happier years.  This letter may reach you before or after the 7th & so I thought it the best thing to do was to send it well in advance, just in case it took several days to reach you.  Of course, it may by some fine chance reach you exactly on your birthday, which I hope will happen, but forgive my poor judgement if it doesn't.  I should have been happier if I could have got home to see you & wish you greetings in your presence so that I could have given you a big kiss.  But the Admiralty (without first consenting me) decided otherwise & here I am, stuck in nether Yule awaiting the next call to arms.  So I shall have to put your kiss in my ditty box 'protein' and hand it over to you 'in toto' and 'ad lib' when I see you and yours in the course of God's good time.
Have you heard of my doings of late weeks from Mother, or are you in blissful ignorance that I've won the **?    Anyway I have just suffered a ride in an aircraft carrier which was not too bad taken all-in-all (in toto) I was hopefully expecting to come South to Kingsdown when I had finished, but such was not written, and the moving hand wrote on & wrote something else, which at present is undecipherable.
This trip was quite an interesting novelty to me, for a carrier is a type of ship which has never been honoured by my presence heretofore.   Looked at from whatever angle you wish, they are queer ships, and their miles of corridors & messes etc make them worse than Hampton Court to find your way about. You may have to go half a mile for a wash, and at least as far to 'spend a penny'.
However, although I am not in your warm southern climate I am tolerably contented, in a cow- like manner, because the past week I have been entirely free from irksome work and I have spent my time reading a History of England, drawing, going to the pictures & Eusa concerts, eating eggs and chips, sleeping and spinning yarns.  That is a good programme, you must admit & just serves to indicate the invaluable services which I render to the Navy and to my beloved country.
Well Doris,  with heart full of pride I announce the approach of my pettyofficership and in order to indulge this pride with the appropriate quantity of outward show (we call it something else in the navy) I am seriously wondering entering into a contract with my tailors for a super duper double-breasted, gold badged and bemedalribboned doeskin suit and petty officer's cap & gold badge for the purpose of impressing all & sundry with the towering height of my ambition and the smartness of my figure.   So on the next windface of pay, if & when the wind elects to fall I think I'll make a plunge.
Thus my tale draws to its close and I feel that your time has come to spin a yarn, so write to me even if it's a short one and let me know how *** are waxing and how *** is waning.  Meanwhile keep cheerful and may God protect you from using too much coal."
https://www.youtube.com/watch?v=Y2lXKZ9Zksg&ab_channel=HeartVEVO