Submitted by Benefitz Betty on
"A body which manages North York Moors National park is set to send the Government an unequivocal message that some types of fracking must not be granted the same planning leeway as home extensions.
Members of the North York Moors National Park Authority will meet next week to consider its formal response to a consultation announced in May by Business Secretary Greg Clark to help create "the world's most environmentally robust onshore shale gas sector".  Mr Clark said steps such as treating non-hydraulic fracturing shale gas exploration schemes as "permitted development"  could streamline the "disappointingly slow" planning process by enabling firms to bypass the need for permission from local planning authorities.
The consultation states any non-hydraulic fracturing – the process of fracturing rock at depth to release gas deposits without the use of fluid pressure – development permitted in this way would still be required to receive consents from the Environment Agency, Health and Safety Executive and the Oil and Gas Authority.
Petrochemicals giant Ineos, which earlier this year refused to rule out planning to frack under the North York Moors, has warned the Government delays in exploiting shale gas is causing Britain to become overly-dependent on imports from Russia and the Middle East.
However, environmentalists have claimed steps outlined in the Government's consultation, which is due to close on October 25, were akin to "trampling over democracy".  Meanwhile,  it has been reported at least 20 bankbench Conservative MPs  are willing "to destroy the government's majority" if ministers seek to push the proposal through parliament.
An officer's report to the national park authority suggests its response to the Government should be that "a balance needs to be struck between timely decision-making and the need for appropriate scrutiny of development proposals at a local level".
It warns that the Government's intention not to apply a new permitted development right in national parks "may not be maintained" and that such schemes outside the national park boundary could give rise to potential impacts within it.
The officer's report also questions the rationale behind giving permitted development rights to non-hydraulic fracturing.
The document states:
"In terms of the potential for impacts on the environment and local amenity, there is no expectation that exploratory drilling for shale gas would give rise to lesser potential for impacts than exploratory drilling for other forms of hydrocarbons.""
https://www.yorkshirecoastradio.com/news/local-news/2695481/fracking-pla...
https://www.northyorkmoors.org.uk/planning/fracking-shale-gas
https://www.northyorkmoors.org.uk/about-us/meetings-and-agendas/authorit...
Meanwhile:
"Three anti-fracking activists are thought to have become the first environmental campaigners to be jailed for a protest in the UK since 1932.
Simon Roscoe Blevins, 26, and Richard Roberts, 36, were sentenced to 16 months in prison and Richard Loizou, 31, to 15 months on Wednesday after being convicted of causing a public nuisance by a jury at Preston crown court in August. Another defendant, Julian Brock, 47, was given a 12-month suspended sentence after pleading guilty to the same offence.
The four men were charged after taking part in a four-day direct action protest that blocked a convoy of trucks carrying drilling equipment from entering the Preston New Road fracking site near Blackpool.
A hearing at Preston crown court heard how the men would become the first environmental activists to receive jail sentences for a protest in the UK since the mass trespass on Kinder Scout in the Peak District in 1932, which marked the beginning of the right-to-roam movement..."
"The site near Preston New Road has been a focal point for protests since the government overturned a decision by Lancashire county council and gave the energy firm Cuadrilla consent to extract shale gas at two wells on the site in October 2016. More than 300 protesters have been arrested since Cuadrilla began constructing a fracking pad at the site in January 2017.  The company has said that fracking is likely to start in the next few weeks, confirming on Monday that 28 lorries had brought fracking equipment to the site...
"Kirsty Brimelow QC, the head of the international human rights team at Doughty St Chambers, representing Roberts on a pro-bono basis, told the judge it had been a peaceful and political protest. She said the right to freedom of speech went beyond "simply standing and shouting" and extended to non-violent direct action.
Brimelow said the fact that central government had overturned the local council to reject Cuadrilla's fracking application demonstrated that "political process has been exhausted".
She said the men were "principled people with genuine and deeply held beliefs", adding: "It is relevant that there is a huge amount of scientific study that points to the damage of increasing climate emissions." She pointed to intergovernmental climate panel findings that climate change would displace 75 million people by 2035 and lead to the extinction of one in four species by 2050.
Brimelow added that the judge should bear in mind that "there has been no environmental protester sentenced to jail since 1932". Activists have been given jail sentences for breaking injunctions and contempt of court, but not for the act of protesting."
https://www.theguardian.com/environment/2018/sep/26/anti-fracking-activi...
"Cuadrilla was awarded 18 new exploration licences, as part of the UK Government's 14th Round for onshore oil and gas licences. These onshore oil and gas exploration licences, stretch across the Cleveland Basin in East Yorkshire and Gainsborough Trough in South Yorkshire. All the licences total approximately 1274km² in area."
​
Current activity in these new exploration licence areas is centred on desktop studies. This will give Cuadrilla a very detailed understanding on the geology deep underneath the licence areas, helping to assess where exploration sites can subsequently be located.
https://www.youtube.com/watch?v=fFSkTTjLs7o
"The Bowland Licence ("PEDL 165") covers an area of approximately 1,064km in Lancashire, the United Kingdom. The Elswick Licence ("EXL 269") covers an area of 54.5km , which is fully surrounded by the Bowland Licence. Cuadrilla is the Operator of both licences.
These licences target what the British Geological Survey refers to as the "Bowland Shale" which spans right across the UK from Liverpool in the West to York in the East. This Bowland Shale presents what we see as attractive attributes for ultimate commercialisation as follows:
​Over 1,000m thickness of shales and associated lithologies identified within the region;
Bowland shale can and has been fractured;

The shale strata are located several thousand feet below the level of aquifers; 

Close to pipeline infrastructure: UK's extensive pipeline network has potential to facilitate cost efficient distribution of gas produced from the Bowland shale; and

Potential for export of excess gas.
​Cuadrilla currently has eight sites within these licences, of which one is currently operational."
https://docs.wixstatic.com/ugd/6e9f66_c16ad512fb924a40807d8835f6b8605f.pdf
AJ Lucas 47% owners of Cuadrilla can be found at:
Emirates House, Lvl 22, 167 Eagle Street, Brisbane QLD 4000
& Lvl 6, 1 Elizabeth Plaza, Sidney NSW 2060 tel (07) 9490 4000
https://www.youtube.com/watch?v=qlCfSBYRvcY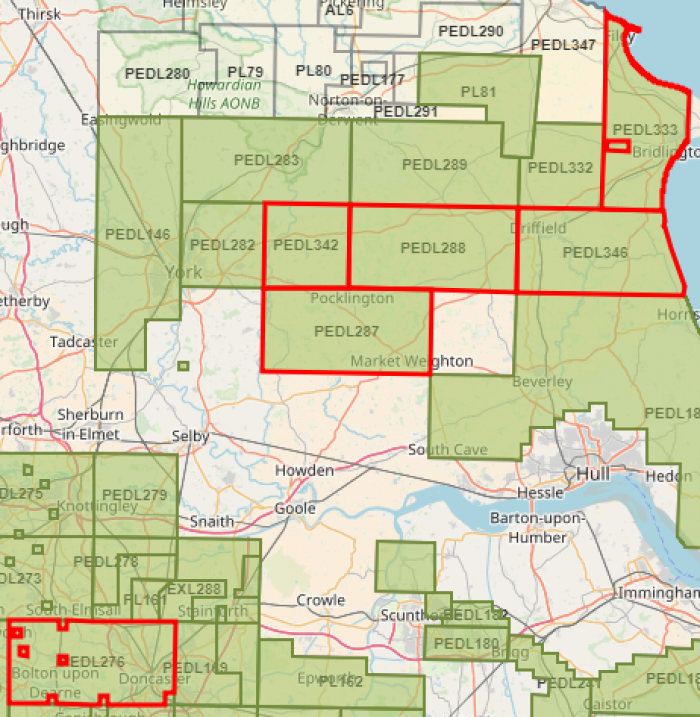 Once more to the bridge?
https://www.thescarboroughnews.co.uk/lifestyle/cavaliers-versus-roundhea...
https://www.theguardian.com/society/2012/apr/17/kinder-scout-mass-trespa...
https://www.invisibleworks.co.uk/black-dog-lore-of-the-north-york-moors/