Monastic Mystery On The Moors
Submitted by Mortal Mindy on
Planning permission has been refused for the expansion  of the monastic home for the only Coptic Orthodox Monastery in England.   NYM planning application NYM/2013/0639/FL sites reasons given for the refusal (11.12.13) are summarised as:
'size and scale'  ....  would entirely dominate the site ...  having a detrimental impact on the character of the host dwelling and the area
No overriding circumstances have been satisfactorily demonstrated ....  would detract from the character of the area and the quality of life of local residents
The proposed access ...width of the adjoining public highway would give rise to additional large vehicles waiting in the carriageway which would cause interference with the free flow of traffic and consequent danger to highway users,
...  public highways leading to the site are of insufficient width to accommodate the increase in heavy traffic ... without serious damage to the carriageway and verges of the highway and loss in amenity value
... the roads leading to the site are not of a sufficient width or suitable gradient to cater for the traffic which would be likely to be generated by this proposal, which would be prejudicial to the safety of uses of the highway
Now I've been following this story on a Mine v Monastery basis, following a local joke that if you wanted to build an extension to your house in the National Park then the path to follow was the right handed Church route  and simply call your extension   'A Prayer Room' or  'Cell'.   Following which begged the question that if the Potash Pepes had applied for a Monastic building in the NYMNP albeit with a very deep well, then that would have been a hole lot easier than, say Application No xxxxx, that has now been withdrawn, at a huge cost to both the applicants and shareholders. 
However, despite my cynical view of the planning criteria set by the NYMNPA and the hypocrisy surrounding current applications I have pursued this 'thread', to draw your attention to a stark contrast between the 'old' and the 'new' monastic mysteries of our Moors.   Whilst simultaneously sharing and par-telling of what I feel is the  overlooked yet delightful story of Mother Thekla.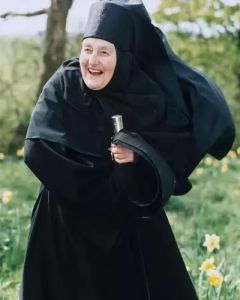 The Greek Orthodox Monastery of the Assumption, Normanby, Whitby, North Yorkshire YO22 4PS.  Converted from a dilapidated old cow shed, two nuns Mother Thekla and Sister Hilda  live in hermit cells, where they work and sleep, meeting only for food and prayer. Back in 2002 Mother Thekla was looking for new recruits and in doing so gave some very stark details about the very basic way of life. 
'There is a microwave, a washing machine and a computer, but no fripperies. They grow much of their own food and freeze their produce to see them through the winter. Shopping for essential supplies is done a handful of times a year by Mother Hilda.'
 "We have a telephone but only five people have the number" (Northern Echo)  
With signs that say  "The monastery does not receive visitors. There is no guesthouse." And another: "The monastery, churchyard and church services are closed to visitors." This is a Greek Orthodox monastery - apparently the only one in the country to adhere to a strict Orthodox tradition http://www.theguardian.com/world/2002/apr/16/gender.uk
Mother Thekla was born in Russia during the revolution. After her family moved to England she completed an English degree at Cambridge and worked for British intelligence during the war, partly in India.  Her isolation was broken when joined by Mother Hilda, 30 years her junior, who had her own views on the female psyche "We have been robbed of our inner resources; elevator music is all around," and, (women) did not "know what to do sitting in a room by themselves".
 "In the past strong, independent women with views of their own were attracted to this life but now because there are so many more opportunities for women to lead independent lives, fewer from this group are choosing to be nuns .... people still want spirituality. ...  but they are looking for a magic key to unlock this spirituality and shift the responsibility for finding that on to someone else."
"In the eastern monastic tradition we are considered neither monks nor nuns ..... our garb is the same as that of male monks and our offices are the same. Here we are beyond gender."
It was Thekla's short book The Life Of St Mary Of Egypt (1974), about the famous prostitute-saint, that caught the attention of John Tavener and became the basis of his second opera, Mary Of Egypt (1992).  Mother Thekla wrote the words to Sir John Taverners 'Song to Athene'.   http://www.youtube.com/watch?v=e3eqNBXi9W4
"We have the knowledge that nothing worldly matters," says Mother Thekla. "We don't need success and achievement in the worldly sense. The soul is free and there's no competition and no jealousy."
Sadly Mother Thekla died on August 7th 2011 age 93 at Sneaton Castle after being left homeless.  Written in 2009 age 91 - http://www.pravmir.com/letter-to-a-new-convert/
http://www.telegraph.co.uk/news/obituaries/religion-obituaries/8698853/Mother-Thekla.html
" A beautiful, Russian-born Cambridge graduate who co-founded the monastery near Whitby and latterly lived there in seclusion as the abbess."
"The Blessing of Ikons" (pamphlet) Trans. Mother Thekla, 1983, The Greek Orthodox Monastery of the Assumption, Normanby, Whitby, North Yorkshire. YO22 4PS Printed by Abbey Press (Whitby), 4/5 Grape Lane, Whitby, N. Yorks. ISBN 0-903455- 29-3
The delightful story of Mother Thekla with tones of darkness, romance, adventure, passion, and a zen like understanding of her immediate environment, offer a stark contrast to the ambitious plans put forward by the Coptic Orthodox Church of St Athanasius.
St Athanasius Monastry,  Langdale End, YO13 0LH was a former summer retreat for the late Mrs J Rowntree.  A closer look at the plans reveal that extension to provide  22 self contained cells, complete with en-suite bathrooms, solar panels, two biomass accumulators for heating and hot water , thick insulated walls with double glazed windows, and claims it is a retreat for training and recruiting men.  With one of the neighbouring consultees being RAF Fylingdales ....  the mind boggles.
The application has the audacity to claim "North Yorkshire is well known as being "God's Own County" and the National Park is its heartland".   It sites Stanbrook Abbey as setting a precedent with views over York Minster and Drax power station. It claims a need for the extension following a change of use in 2008 to allow up to 25 monks, even though at that time they could only reasonably house 4 -5 monks.
http://planning.northyorkmoors.org.uk/MVM.DMS/Planning%20Application/810...
Site plans:  http://planning.northyorkmoors.org.uk/MVM.DMS/Planning%20Application/810...
Bizarrely, the SEN report dated 4th January was after the Refusal decision was made: http://www.thescarboroughnews.co.uk/news/local/monastery-hoping-to-expan...
'The monks and novices at St Athanasius Monastery, come from a wide range of backgrounds - two of the novices are Germany physicians, while other monks include a former civil engineer and an accountant, pharmacist, and a surgeon and a physics company supervisor. Yet,  "All the monks have university degrees and have been leaders in their professional lives," said Bishop Anthony who has headed the church for 17 years.'
The NYMNP is expecting an appeal against the Refusal very shortly.  So far two applications for this development  have been refused.  The mystery of our moors continues .....