O&G - The Environment Agent Event
Submitted by Captain Qahn on
Frack Free Scarborough ask  "Think again. The industry plans to drill nearly a thousand wells through the aquifer that gives Scarborough its drinking water." 
Aswellas Third Energy, Cuadrilla & Ineos that hold PEDL licence's surrounding Scarborough are Rathlin, Igas, Europa and Alkane on the fringe.  Are locals, residents & the public aware of the risks and regulations in place that may transform, transmit or terrorise the territory?  ;-/ https://www.youtube.com/watch?v=suuMJN2K4v4&list=PL-JlphLJ3BoNfP_CDorUQo...
"For the rich and powerful, this is an opportunity not (to) be missed: the multi-billion pound oil and gas industry is in overdrive, pushing its profiteering agenda and trying to disguise how bad fracking is.  You will hear very little on detail via the mass news outlets.  But don't take our word for it: do your own research, google 'fracking' and read the stories of people who live in these gas gields...."  
I guess 'rich and powerful' is rather subjective; all very sheep, shaggy and ... erm, scooby doo.... they all tend to use and share 'contractors', 'consultants' and 'co-exist'.  The question as to how much they 'make' once past their two to three year 'desk top study' remains elusive. Mysterious. Stupendous... . Studentshially? https://www.youtube.com/watch?v=29zn5-yuOFg&index=2&list=PL-JlphLJ3BoNfP...     
Oh,OK: Lets 'google' :  https://www.gov.uk/government/publications/about-shale-gas-and-hydraulic...
Mass media?  Focus: http://www.yorkshirecoastradio.com/news/local-news/2127270/draft-plan-co... & http://www.yorkshirecoastradio.com/news/local-news/2126039/oil-and-gas-r... Yo canna get more mass media than local radio:-?  https://www.youtube.com/watch?v=cPAEFnVZVOs .  Skimpy on the detail mebbe.
Transform?  Shale gas has the potential to create and safeguard jobs, provide economic benefits for local communities and increase energy security and independence.  http://www.ukoog.org.uk/economy/benefits
Transmit?  Fracking can have adverse impacts on health. https://www.theguardian.com/environment/2015/mar/30/doctors-and-academic... .... Oh:  http://www.bmj.com/content/350/bmj.h1791/rr-1
Terrorise?  Abridged: Thousands of HGV movements .... contamination of water supplies.... contaminated with heavy metals and other dangerous chemicals... air pollution... earthquakes... noise pullution... abandoned wells.... climate change.... and lorrddy forbid house price falls... up to 7% !!!. ffs. http://www.bbc.co.uk/news/uk-37719847
https://www.youtube.com/watch?v=Z1bn7C-R350&index=3&list=PL-JlphLJ3BoNfP...
Anyhooos,  enough of the precursor, on balance, it did seem rather ODD that the Environment Agency (EA) were holding this rather impromptu event in Skardiborgas at seven days notice.... so donuts aside wot were they doing? 
Other than providing some great informative literature on the important role that the EA plays in the Oil & Gas industry, the 'event' was assumingly to reassure those that had any doubts about the strength, reliability, resources and powers of the EA in regulating the dimensional of the Oil & Gas industry that is Shale.
The Role:  Protects people & the enviroment.
Effectiveness: Experience, expertise & wide knowledge in environmental risk covering landfills, nuclear, cement, oil & gas refineries, all managed at individual sites.  
The Risks of Shale Gas: Current regulations are sufficient,  controlled, good operational practice, reinforced and reviewed as the industry develops. 
Shale Permits:  Mining waste & groundwater activity.
Protecting Groundwater:  Depend on the nature of activity, geological conditions and risks to drinking water supplies.  (will not permit where there is significant risk to pullution)
Water Requirements:  10000 to 30000m3 per well.  IF the industry scaled up envisage less than 1% of total water used by households, industry & agriculture per year.
Water Resources: Supplied by local water companies.  The EA provide a Water Resources Strategy upto 2050.  By law Water companies produce water resource management plans every five years, to cover a 25 year period.
Chemicals:  Must be approved by the EA and listed in the permit. (no 'hazardous substances')
Waste Waters.   Flow back fluids and process water may contain naturally occurring radioactive materials (NORMS) with a high mineral content. Disposals require facilities and methodology agreed between operator, contractor and EA.
NORMS: Four sites in the UK (all in the North - Leeds, Sheffield, Teeside, Brans Sands (http://www.fccenvironment.co.uk/)
Inspections: Planned, unplanned, audits and spot checks with a free 24 hour incident hotline. Enforcement powers to shut down operations.  
Seismic Risks (Earthquakes) : The proximity of relevant faults (3D siesmic)  monitor before, during and after.  Halt injection if exceeds a predefined level.
Support for Shale Gas?   The UK's energy mix is a policy matter for Govt. Neither for or against. We ensure that any energy technology, be it shale, gas, hydropower, anaerobic digestion or coal fired power stations, operate without causing harm to people of the environment."
All of the above should be found via Google ... obs my goggles aren't working so has been abridged:  Customer Services 03780 506506  Incident hotline  0800807060. 
Prevention: HSE: http://www.hse.gov.uk/shale-gas/faq.htm
Some further snippets :
What if it all goes wrong?  Under current legislation operators are not bonded.  There is no mitigation procedure.  For example KM8  if they go bust the EA along with Local Authorities can persue the operators for damage repairs and reinstatement.   Should the 'persual' fail the liability falls to the landowner.   
https://www.youtube.com/watch?v=Ci1M_bbdeZE
The EA are not allowed to comment on the geopolitcal aspects of energy supply.  Neither are the HSE "If related to world politics we cannot respond"  Our work is based on Risk Asesment around activity modelling. 
The Shale formation sits within jurrasic rock that lies under the entire UK.  Another bowl effect;  there are no licences across the Pennines because the bowl of the shale rises to such a level it seeps out naturally and is too shallow.   The shale gas has to be at the right depth with the right pressure applied to commercially extract the stuff.  
Local Authority scales : the Contamination of Land Act Part 2A
Offshore Responsibility.  This was unsure.   The EA cover 40 offshore operators but not fracking ones.  An onshore fracker fracking horizontally offshore would be monitored.   The distance for EA regulations offshore was unknown but guested at 28 miles and is awaiting confirmation.
It was great to see the Green Party in attendence with a few anti's.  When asked if the event reassured them about fracking "Hell no... Why start a new fossil fuel industry dependent on our natural resource of our water".
Also of note was the high skills and quals of the EA team on hand ... biochemists, engineers etc (an EA jobs link will be posted when goggled.)   The EA is part funded by the industry it serves.  Permits cost money and as the industry scales up so will the jobs in the EA to regulate.  
If you missed this event and would like to attend  a draft list is as follows: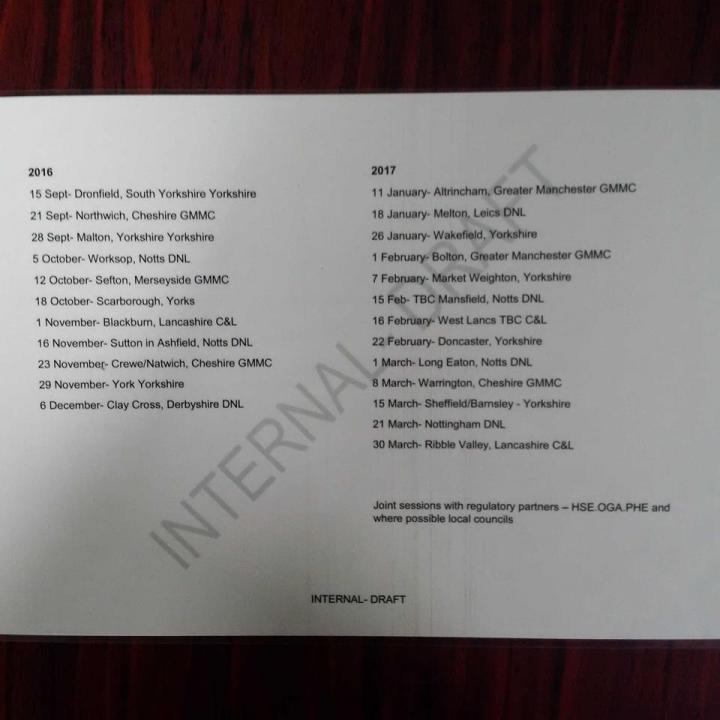 http://www.metoffice.gov.uk/events/orionid-meteor-shower#?tab=map&map=Cl...
A Hallow special :->
Dooos and don'ts.