NYMNPA - 'Fracking' Updates
Submitted by Mortal Mindy on
NYMNPA have updated their 'fracking' page:
"The NPA welcomes the Government's intention to prohibit any surface development required for hydraulic fracturing within National Parks as this increases the protection afforded to these special areas (DECC Consultation 4 Nov 2015). However, the Regulations voted on today (16 December 2015) which allow fracking to occur below 1200m from drilling outside the boundary of a National Park undermine this intention and indeed the legislation protecting these areas, which do not stop at a certain depth below the surface.
The Authority understands the Government's wish to proceed with the shale gas industry as a transitional approach to help to move towards a lower carbon energy strategy whilst also demonstrating to the public that the country's most sensitive environments would be protected from the risks associated with fracking. However, the fact that fracking itself will still be able to take place in the geology of the National Park means that public concerns surrounding potential groundwater contamination, seismic activity and faulting and the use of chemicals and release of naturally occurring radiative material do not appear to be addressed.
In cases where there may be future proposals for lateral fracking to extract shale gas beneath the North York Moors, the Authority would assess such a planning application against the government policy known as the 'Major Development Test'. This does not allow such development in National Parks unless there are exceptional circumstances which must demonstrate that there is a national need for the development and that it can't take place outside the designated area. As the Minerals Planning Authority the NPA therefore has strong planning powers to assess whether to allow future proposals for lateral fracking.
Jim Bailey, Chair of National Parks England said: 
"Today's decision to protect National Parks from surface works is welcome; and we think it is now essential that the Government's National Planning Policy Framework is amended to make it crystal clear that hydraulic fracturing is not allowed in National Parks.  The public want to see the highest level of protection for National Parks, and so works located close by but that might involve drilling underneath National Parks must be subject to the most rigorous testing.  These sensitive areas should be the last, not the first place that developers should prospect."
The following information on fracking is provided in response to growing public interest on the subject in and around the National Park. The North York Moors National Park Authority is the minerals planning authority for the National Park and will be responsible for determining any planning applications for fracking."
Interestingly the 'Major Development Test' is still in existence.
Lots more on 'fracking' Shale Gas here with links, regulations etc, etc: http://www.northyorkmoors.org.uk/planning/fracking-shale-gas
Nothing that erm, new.  Of interest is the question of a precedent being set by 'industrialisation'.   Shock. Horror. Yawn. (Is that a movie?)
In 2013 the BGS made a case for a MSA bufferring zone around strategic resources, such as salt, potash & polyhalite.  Page 25, 3.6 : http://www.northyorkmoors.org.uk/planning/planning-advice/flooding/miner...
During the wider discussions relating to the York Potash application a statement was made by Boulby (2013) that they were in the process of applying for a 15km frack free zone around their mining operations.  (no link found yet)  York Potash were expected to do the same.   Clearly the activities of mining and hydraulic shale gas are incompatible and much was made of this during the York Potash project proposal and resulted in a Zone of Influence and  more Zones Zones Zones around extractions.
Anyhow, as the 'frack on' v 'frack off' 'frack along' continues to play out, the Yorkshire Post lists areas that may or may not be impacted: http://www.yorkshirepost.co.uk/news/140-yorkshire-heritage-spots-covered...
Even Wakefield has a 'fracking' mention : http://www.wakefieldexpress.co.uk/news/local-news/wakefield-council-says...
Nope, no 'fracking' at Malham neither : http://www.cravenherald.co.uk/news/14269276.Fracking_in_Craven__highly_u...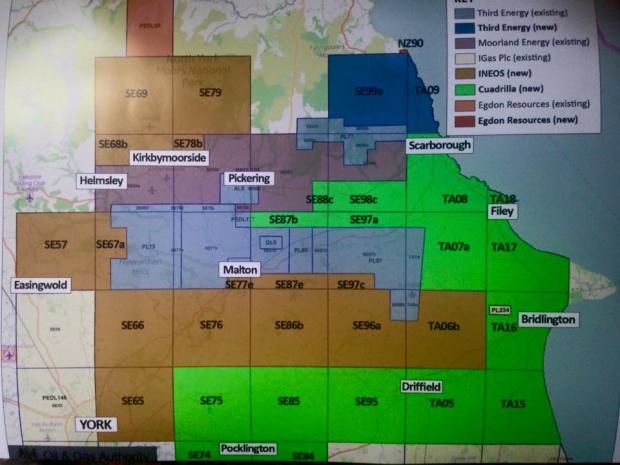 Bless their little cotton socks, even Ineos & Cuadrilla have avoided dipping their 'fracking' toes too near to the York Potash mine, with licences along the Vale of Pickering and southern Scarborough down to Holderness. 
Do some 'fracking' operators recognise the oustanding 'preserve & protect' policy of the North Yorks Moors Park and as an area of special interest? Mebbe they just thought, 'hey, they're building a mine ... not just any old mine ... a mine of strategic significance and importance' or somin.   Hey Ho.
It certainly looks like Third Energy thought they would chance their arm with SE99a & TA09 (Burniston, Cloughton, Hayburn Wyke etc)  see:  http://frack-off.org.uk/local-group/frack-free-north-yorkshire/
Now why would they do that?
Oh just a minute, donuts.  Not part of the Culmulative Impact Statement either: http://yorkpotash.co.uk/site/assets/files/2624/environmental_statement_p...
https://www.youtube.com/watch?v=_-PgPZ3F9P4
Further Reading:
http://www.northyorks.gov.uk/article/23999/Minerals-and-waste-joint-plan...
whOoops, Hackness...
http://www.british-history.ac.uk/vch/yorks/north/vol2/pp528-532